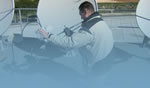 FRAMEWORK PROGRAMME
Participation in the EU Framework Programmes
Integrasys has participated for over 20 years in the Framework Programmes of the European Commission, in the area of Information Socety Technologies working as Software Developer, Systems Integrator and Testbed Designer.
Participation in the FP programmes has fostered Integrasys Research & Development capabilities in the areas of wireless and satellite communication systems and software and services architectures.
The following list summarises the projects carried out under each programme:
Completed IST projects:

Completed ACTS projects:
FRAMES, Future Radio Wideband Multiple Access Systems (ACTS AC.090)
CABSINET, Cellular Access to Broadband Services and Interactive Television (ACTS AC.236).
Completed ESPRIT projects:
TESTLIB, Use of Object Oriented Test Libraries for Generic Re-Use of Test Code in Type Approval Computer Controlled Test Systems (Esprit Nš 21216)
Copyright © 2012 Integrasys - All rights reserved