Welcome to Integrasys
New! INTEGRASYS announces the immediate release of Satmotion Pocket Remote Commissioning Solution for Google Glass, at CommunicAsia2014 tradeshow on June 17th to 20th, Singapore. Read the press release.
Our software products are the state-of-the-art in Control Systems in terms of speed, flexibility, efficiency and scalability and introduce a new concept in signal monitoring communications.More...
UPCOMING EVENTS
INTEGRASYS Shortlisted on VSAT2014 Technology Awards!

Integrasys at the next IBC 2014

INTEGRASYS will attend IBC 2014 on September 12th to 16th, Amsterdam, If you want to see a Carrier Monitoring Demo and VSAT installation tool, do not hesitate to contact us at info.sales@integrasys-sa.com and request a demonstration. Thank you.
NEWS
Integrasys announces carrier ID detection
Integrasys has developed support for Carrier ID (CID) interference detection on both its CMS products - on ControlSat, the fastest carrier monitoring system on the market, and the VectorSat carrier-under-carrier detection system.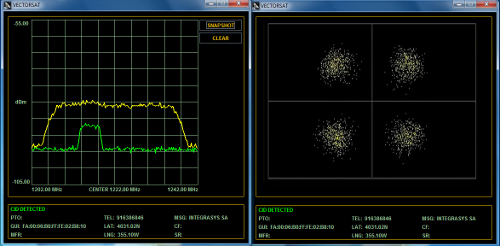 Integrasys has been working with IRG (Satellite Interference Reduction Group) following the CID initiative for minimizing broadcaster interference thus providing reliable transmissions for events such as the World Cup and Olympics.
Read the complete article.
Transatlantic Trade and Investment Partnership - TTIP

The European Commission selects Integrasys as one of the most Successful European SMEs in the American Market and a good example of how TTIP will help to enterprises.
Read the success stories.