Welcome to Integrasys
New! INTEGRASYS announces the immediate release of Satmotion Pocket Remote Commissioning Solution for Google Glass, at CommunicAsia2014 tradeshow on June 17th to 20th, Singapore. Read the press release.
Our software products are the state-of-the-art in Control Systems in terms of speed, flexibility, efficiency and scalability and introduce a new concept in signal monitoring communications.More...
NEWS
INTEGRASYS & Satmotion Pocket have been shortlisted for the Technology Of The Year on the Vision Awards at SATCON 2014 and CCW Conference NYC
Satmotion today is the most innovated technology, because it is the first application from the Industry on Google Glass, and allows the installers to auto-commission VSATs hands-free.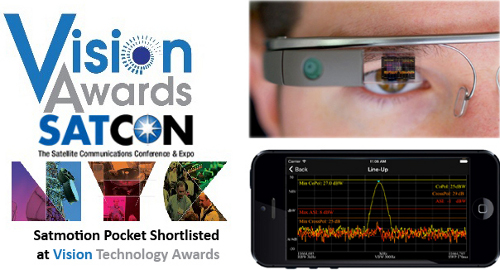 WTA interviews Integrasys Sales Manager at IBC on HTS and satellite interference mitigation
INTEGRASYS Shortlisted on VSAT2014 Technology Awards!
INTEGRASYS has been shortlisted for the VSAT Technology Innovation Of The Year on the VSAT2014 Industry Awards.